Travel Directions to Granlibakken Conference Center
Granlibakken Conference Center and Lodge, 725 Granlibakken Road, Tahoe City, CA 96145.
Coordinates: 39° 9′ 20″ N, 120° 9′ 18″ W
Traveling by Air
The Reno Cannon International Airport (RNO) is the the closest airport. Direct or connecting flights from San Francisco and other cities are available. Attendees who fly into the Bay Area (SFO or OAK) can also drive north to reach Granlibakken in about four hours. The Granlibakken conference center is a 60 minute drive from the Reno/Tahoe Airport.
Shuttle from RNO
Granlibakken also offers a shuttle service from the airport at a cost of about $30.00 per person each way. The shuttle service is operated through North Lake Tahoe Express. Attendees who wish to reserve with the shuttle should call Granlibakken at (800) 543-3221 at least seven days in advance of arriving. Granlibakken posts their shuttle schedule.
Rental cars are available at the Reno Airport. Driving time is about one hour. See below for driving directions.
Driving instructions to Granlibakken Conference Center
From the Bay Area: Take Interstate 80 east from the Bay Area. The four-hour drive will take you through Sacramento, the state capital, the Sacramento valley, and into the Sierra Nevada range. Although weather in October is usually good, and I80 is wide and well maintained, the drive goes over Donner Pass at 7,056 ft (2151 m). Check road conditions for highway 80 before starting the drive!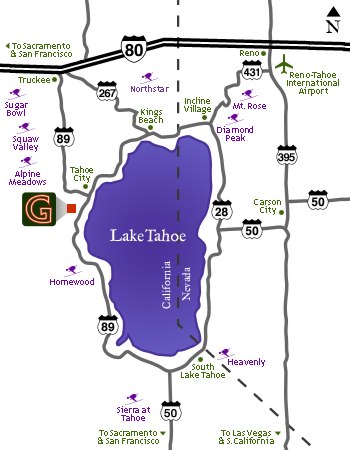 From Reno: Take Interstate 80 west from Reno. At Truckee, approximately 40 minutes from Reno, take Highway 89 south to Tahoe City. Bear right at the first stop light, and continue on Highway 89 south for 1/2 mile to Granlibakken Road. Turn right on Granlibakken Road, and continue 3/4 mile to the deck overhang of the Main Building for registration and lodging check-in.
From Southern California: Follow Highway 395 North to Highway 50 West in Carson City. Turn right on Highway 28 along the east and north shores of Lake Tahoe to Tahoe City. Turn left at the stoplight and continue 1/2 mile on Highway 89 to Granlibakken Road.Turn right and continue for 3/4 of a mile to the deck overhang of the main lodge.
---
FOR MORE INFORMATION
Email: llrf13@lists.lbl.gov