Venue and Lodging Information for Attendees
LLRF13, The Low Level Radio Frequency Workshop will be held at the Granlibakken Conference Center, located on the North Shore of Lake Tahoe. The Granlibakken is situated in the stunning scenic beauty of the Sierra Nevada Mountains.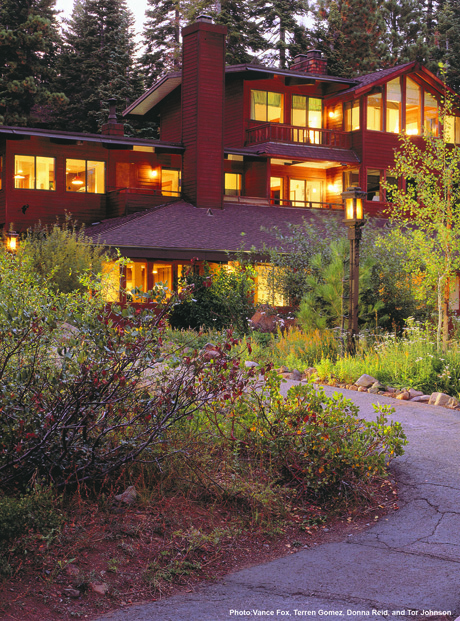 All Workshop functions will be held at Granlibakken Conference Center. The Conference center is located in its own private 74 acre valley, just one mile from Lake Tahoe's beautiful North Shore.
Granlibakken was the site of the 2008 Beam Instrumentation Workshop (BIW).
Reservations
The organizers have negotiated an all inclusive package for the four nights of the event priced as follows:
Bedroom Units & Rooms with a townhouse:

$123 per person, per night in double occupancy
$143 per person, per night in single occupancy

Executive Lodge and Studio units are available for:

$143 per person, per night in double occupancy
$163 per person, per night in single occupancy
These rates are all inclusive and cover the cost of all meals (and are therefore within U.S. Government expense limits for Tahoe City). Amenities include in-room wireless Internet, access to the facilities, and parking, all at no additional cost.
Please contact the venue (Granlibakken) directly by August 30, 2013, to reserve rooms at these rates! A reservationist is available 24 hours a day. To register for a room online, use the following steps at the Granlibakken web site:
Click on the reservation box (upper right hand corner)
Click on the Conference Participant box
Type in Group ID and Password, which is LLRF13
Spouses or guests of conference participants will be required to pay a fee of $50 per person, per night, which includes all meals and lodging shared with a participant paying the single occupancy rate. A spouse/guest requiring an extra lodging room will be charged an additional $66 per standard room, per night.
A 20% tax and service surcharge will be added to all the above rates (and taxes are not considered part of the U.S. government per diem limits). If you hear a quote of $686, that covers four nights and meals at $143 per day, plus 20% tax and service. All figures quoted in U.S. Dollars.
Granlibakken's CANCELLATION Policy: Early cancellations are subject to a $20.00 handling fee. Cancellations received less than 30 days prior to arrival are charged $100.00 per person. In the event of a cancellation that was assigned double occupancy, the remaining participant will be charged the single occupancy rate. No-shows will be charged two nights at the package rate. Participants who check in a day late or leave a day earlier will be charged the full four-day package rate unless the alternate arrival/departure dates are confirmed 72 hours prior to arrival.
Special rates are also available for those who want to arrive earlier or stay beyond the end of the workshop. Note: there is a two night minimum for weekend stays. Please contact the organizers for these special rates at llrf13@lists.lbl.gov.
Travel
For domestic and air travel directions, see Travel Directions.
For more information about tourism in the North Shore Lake Tahoe area see visitinglaketahoe.com or gotahoenorth.com.
---
FOR MORE INFORMATION
Email: llrf13@lists.lbl.gov